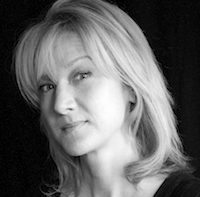 MASTER STYLIST | LEXIE
Specializing in blondes, Lexie was trained in the art of three dimensional hair color by legendary NYC celebrity hair colorist Brad Johns. Using a variety of techniques to achieve soft sun kissed highlights she follows the philosophy that your best hair color is often determined by what color your hair was as a child.
As a young girl growing up in New York City, Lexie was first exposed to salon culture by her aunt who was a master stylist at the Jean Louis David salon at Henri Bendels. So inspired by the creativity she witnessed on her visits to this salon that by the age of eleven she began coloring her own hair.
Through her teens she experimented with alternative special effects hair color on artists and musicians of the 1980s downtown scene and went on to study color theory and painting in art college. It was while living in the Caribbean that she became obsessed with the softer, gentler look of natural sun lightened hair and developed her aesthetic for natural hair color for which she is now known.
Lexie moved to New Orleans after a six year apprenticeship with Brad Johns. When she's not creating beautiful hair color at Stardust she is tending to the tresses of her loyal followers in NYC. To make an appointment email me at leximontgomerycolor@gmail.com and for more information please visit me here on INSTAGRAM