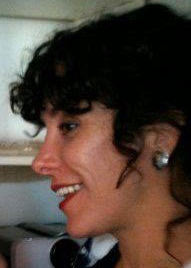 MASTER STYLIST | KIMBERLY KULHANEK
Kimberly Kulhanek is devoted to the craft of hair, continually educating herself and possessing a thorough understanding of classic and cutting edge styles. Specializing in haircuts for over 20 years, she thinks of each cut as a sculptural piece with countless nuances. With each haircut, her aim is to give a complete experience. She consults extensively with her clients, which is then translated into cuts that match their lifestyles. Bringing out the individuality of each client's natural texture and demonstrating how to work with their style at home is the core of Kim's technique as a stylist. (Oh, and we can't forget the amazing scalp massages she gives.)
Skilled in numerous techniques from old-school clipper barbering to free-style razor cuts to classic Vidal Sassoon precision, she will achieve your desired look. Although talented with ALL hair types, being a curly girl herself, she has an extensive curly following. Kim prides herself on providing a casual atmosphere while maintaining meticulous attention to detail.
Drawing inspiration from a variety of cultural sources, her close involvement with artists spanning the mediums of music, art, film, and fashion inform her sense of style. If one were to peek at her client list, it would mirror the diversity of her interests. Working in NYC, her skill and experience took her outside of the salon and into the fashion and hair industry. She has been sought out by fashion week,naturallycurly.com, as well as video and photography shoots for musicians.
Text 504-507-0650 with appointment request.
WOMEN'S CUTS
extra time for blow-out with cut. $15-20