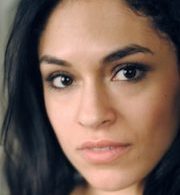 STYLIST | ARGERIE VILLALOBOS
Argerie's talents for styling hair first became apparent when she was a young child and her friends and family let her experiment on their hair. Her father was an artist, primarily a jeweler, and encouraged her to create, using whatever tools she could find. In 2005, with those early days of household scissors and peroxide behind her, she graduated from the Aveda Institute, and she continues to refine her skills with constant education. She is known for her incredible attention to detail and for the way she puts her clients at ease, making it a priority to understand the individual, as well as the client's hair.
Argerie is adept at creating a range of styles, from straight-razor haircutting to bridal updos to curly hairstyles. She enjoys working with different mediums and, to highlight each client's natural beauty, pays special attention to tone and placement in color applications. She combines her love of the arts—dancing, painting and styling—with the creative edge that once inspired her playful childhood "masterpieces" and that contributes to her success as a stylist today.